Posted 4/12/19
Jennifer Dawson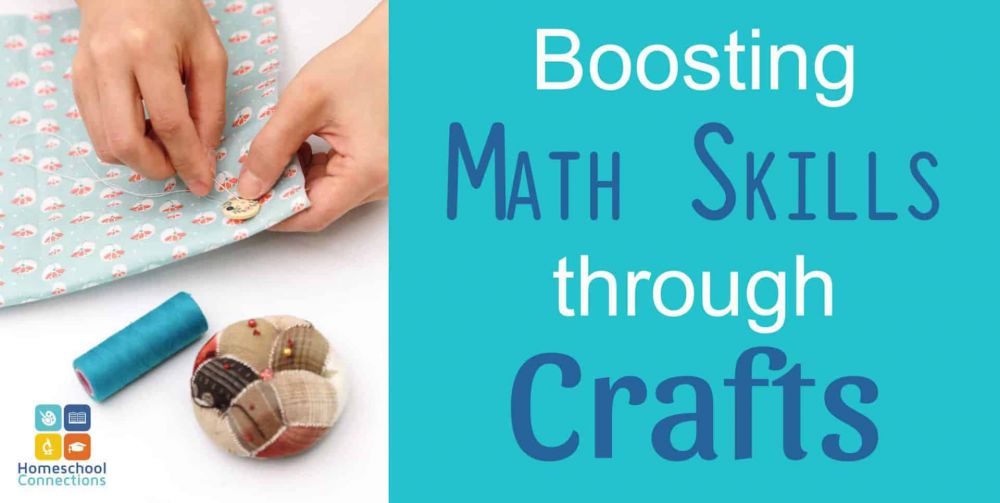 Written by Jennifer Dawson
One of the biggest advantages of homeschooling is that you can set the curriculum. You can be creative with the learning experience, especially when it comes to merging subjects and skills. It is a way of teaching that you won't find in the majority of high school classrooms. There are many creative crafting skills that will sit well on your timetable and boost your children's math skills in a way that is interesting, fun, and engaging.
Learning to Sew
Learning to sew doesn't just fit into one subject bracket. Let us consider all the processes that you need to make a throw pillow for your sofa or floor. First, you need good math skills to calculate the measurements of the material including the hem. How much fabric would you need to add to incorporate your zipper? You may also need to work out the cost of sewing materials, including fittings and decorative items. You then need to work out your pillow design. You can even use a graphics computer program or app to draw out your design and calculate the measurements in detail before you start your sewing project.
There are plenty of places where you can take a sewing class in Detroit to help both you and your children improve your sewing skills. Design Sewing Studio (33335 Grand River, MI 48336) offers classes to adults and children, for beginners through to advanced. Eastern Michigan University also offers regular classes on the Detroit campus.
The Art of pottery
Pottery, whether it is with simple modeling clay or a potter's wheel is a craft that children love. There are many ways that pottery can educate students about math. You can use it to demonstrate volumes, shapes, division, widths, length, height, and weight.
You also need to be able to understand symmetry and balance and be able to demonstrate good use of mathematical perspective. Pewabic Pottery (10125 E Jefferson Ave, Detroit, MI 48214) and Creative Arts Studio (114 W 4th St, Royal Oak, MI 48067) offer a range of classes for all abilities.
Linocut printing
Linocut printing is a wonderful craft for older students – it is a form of relief printmaking that is inexpensive and won't take up a lot of space. In simple terms, you carve out a design onto linoleum using special lino cutters. You can then print your design onto paper, cards, and even clothing. Linocut is a graphic skill that involves designing something, carving it as a mirror image, and then perfectly reproducing your image. It is not only creative, is the perfect craft to help teach business math skills. Think about the throw pillow. You could create unique pillows with a linocut print design and then sell them online. How much would materials cost? How would you value your printing time? What is the best way to make a profit? Children will love talking about how to start their own business independently and it will help improve their math in a way that is easily relatable to everyday life.
Crafting isn't just a creative process. Your children can learn a variety of math skills that will help them in everyday life.
art of pottery, boosting math skills through crafts, children's math skills, crafting math skills, crafty math skills, creative crafting skills in homeschoolers, creative learning experience, Design Sewing Studio, homeschool sewing, homeschooling math skills, linocut print design, Linocut printing, merging subjects and skills, Pewabic Pottery, pottery and math, relief printmaking, sewing class in Detroit, teach business math skills, variety of math skills