Posted 9/16/16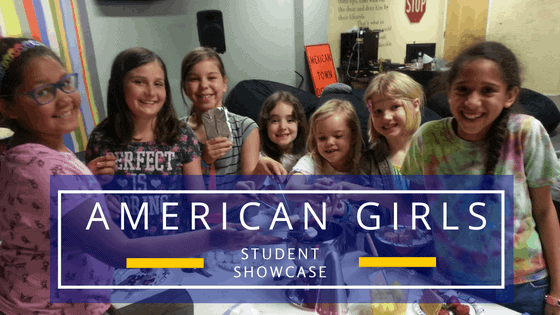 The American Girl class is the perfect class for students who love to read, or want to improve their reading skills, while having loads of fun. During each American Girl class the students read 2 series of books, each about a different American Girl during a different decade of history. This past winter semester the students read books about Mary Ellen, from the 1950's, and Julie, from the 1970's. The class read 6 books about Julie, and a bonus book about her best friend Ivy. They read one book each week. The books are historically accurate so the class focuses on learning about the culture of the era along with increasing their reading comprehension with fun projects.
Some of the things the class participated in last semester were: watching TV clips of the Brady Bunch and the Love Boat shows, learning about the animal rights movement during the 1970's, making fuzzy pink rugs for their bedrooms and dolls, and discussing the political atmosphere of that era. The semester concluded with a fondue party, complete with disco music, a peace bracelet craft, and 70's outfits. After reading each book series the class also creates questions and then play a game of Jeopardy on teams, to showcase the facts they remember from the books. The students are motivated to learn because the information is part of the weekly conversation and is integrated into projects and fun activities. Similar interactive activities were planned for each of the other book series that have been assigned to the students in this class.
"This is one of the most enjoyable classes for me to teach," says Carrie MacGillis, teacher. "The students come to class anxious to find out the activities and projects for the day each week. They become friends and grow in their knowledge together." One of the consistent themes in the American Girl books is equal treatment for all people, regardless of gender, race, religion, or ethnicity. Mrs. MacGillis states, "It is interesting to see how, for children, basic human rights are not something to be questioned. It is very clear to them what is a right and wrong way to treat people. It is inspiring to listen to their comments in class. It gives me hope for the future!"
The American Girl class used pink fuzzy material to make rugs. The inspiration came from one of the Julie books read for the class. Julie and her mom make a pink fuzzy rug for her bedroom, which was common décor during the 1970's era.
The semester concluded with a Fondue Party. Each girl brought something to dip into the fondue. There was disco music and dancing, along with a competitive game of Jeopardy.